What is good about sailing at Abbey Meads with the Guildford Model Yacht Club.
• A friendly welcome.
• A lovely landscaped setting.
• Large open lake – great sailing!
• Parking next to both control areas.
• Free no-fee sailing for a number of events.
• Excellent visibility – eye-level 4 metres above water.
• Two control areas to set good courses to suit any wind direction.
• Even-gradient steps down to launching platforms.
• In this pandemic, no distancing/risk from passing public.
• Helpful advice given on sail setting etc.
• Skippers of all skill levels are very welcome, especially beginners.
• Good event organisation by experienced team.
• Weed free in summer.
If you haven't got a boat we can lend you one to come & sail with us either DF 95s on alternate Wednesdays 10-2 PM & Marbleheads on Saturdays once a month. Contact Roger on (01483) 421801
Abbey Meads Lake
Abbey Meads Lake is near Thorpe Park, Chertsey. This is a superb large open sailing water, ideal for radio racing whatever the wind direction controlled from either South and West banks to provide excellent sailing, whether it is club racing or open competition. The lake is easy to find, see the 'Contact Us' page for directions and a Google map.
Newcomers are very welcome
Please come along to watch in the first instance and you are sure to be given the opportunity to sail one of our Marbleheads, which form the basis of our club racing. You are bound to enjoy the excitement which radio racing generates and will want to have another go. If you ring before the event you may be able to borrow one of our 'club' boats. You will be delighted by the thrill of sailing these small, but high performance boats in races using the same 'Racing Rules of Sailing' as the rest of the sailing world. There are always lots of races to enjoy and the excitement is enhanced by courses that only take a few minutes to complete. With a radio transmitter in your hand you will be enthralled and won't want to let go! We are a friendly and keen club of enthusiastic members and cater as much for newcomers as for experienced sailors.
Club Events
The Club's programme includes 10 club events that count towards the Club Marblehead Championships that are run on a handicap basis. Club events are normally held on Saturdays and Wednesdays, they start at 10.00 and racing continues into the afternoon.
Club Standing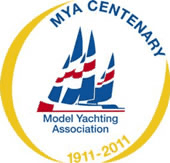 Guildford Model Yacht Club celebrates its 90th anniversary in 2022. We are affiliated to the Model Yachting Association, the UK national authority for radio racing, who celebrated their Centenary in 2011. The Model Yachting Association is a Delegated National Member of IRSA, the International Radio Sailing Association, which is the world authority for radio racing and recognised by World Sailing, the world authority for sailing.
You can find out when and where the club sails by either contacting the club secretary, using the 'Contacts' section or by looking at the 'Calendar' section of this site. It is worthwhile trying out a range of yachts before deciding on a class. A second hand boat is a good start, as it is often well tuned and the gear sorted. Racing it will allow you to see the latest designs in action and you will be better informed about your preferred boat. The method by which you are going to acquire your new boat will help in the selection of a design. Whether you are going to build it totally yourself or with parts from selected suppliers, build from a kit or purchase a boat in various stages of completion to suit your budget and/or construction skills will determine your choice. For all the MYA recognised classes there are plans, specialist parts, fittings, kits and complete boats from several sources from which to choose, see the 'Links' Section for a list of suppliers..