For Sale or Wanted
All enquiries to be made in the first instance via the Club's Contacts page.
The Club will not be held responsible for any financial transaction. This page is solely for the use of putting seller and buyer together.
We welcome any 'For Sale' or 'Wanted' requests via the 'Contacts' page.
We can usually locate a S/H yacht or spares for you, just let us know your requirements and we will try and put you in touch with someone that can help.
SOLD – Marblehead UPROAR. This UPROAR is a recent Roger Stollery design and one that he campaigned with when he went to the M World's at Gouda. It should be pointed out that the underwater sections are the same as UP, which Peter Stollery sailed to the top of the rating list last year. So UPROAR is a well put together and tuned boat and has just an A rig, would (I'm pretty sure) be complete with one of Rogers original BOOTs containing winch and rudder servo, but  there will be no radio radio gear. The boat is well photographed and on our homepage on this website, the leading strip of photographs have several images of UPROAR, including the first one. The sails are quite old, but they are probably the best shaped suit of A rig sails that Graham Bantock ever made for Roger. So at £350 this is an absolute snip!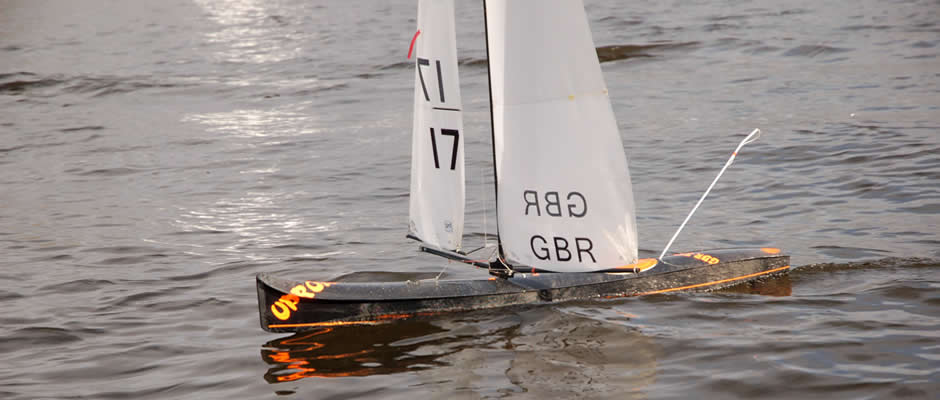 For Sale – 2 Footy Hulls, Paul Midgley's GER design based on BUG 3 and a Paul Midgley own design balsa hull.   Ideal little boats for juniors, but they need completion. Full plans are available for the BUG 3 design.  £5 each.